Awarded to scientists for their contribution to the natural sciences.

Awarded annually by Council alternately to one or two scientists (in any field), as an expression of the Society's esteem and appreciation for service to science. Any biologist, irrespective of nationality, who is not at the time a member of Council, is eligible to receive the Medal, which is presented at the annual Anniversary Meeting by the President, who specifies the grounds on which the medal has been awarded.

The Linnean Medal was instituted in May 1888 in connection with the Centenary of the Society that year. The medal was gold up to 1976 and therefore sometimes was referred to as the Linnean Gold Medal. Since 1976 the medal has been made of an alloy and is different from the Linnean Gold Medal currently awarded for services to the Society.
Open to any scientist, of any nationality or age, in any field of academic research relating to the natural sciences (e.g., taxonomy, systematics, phylogenetics, evolution, ecology)
For their significant contribution to the science of natural history (and to the wider natural sciences community)
Nominee cannot, at the time of nomination, be a member of Council
Nominee does not need to be a Fellow of the Society
We do not accept self-nominations
Nominations are now closed.
Rohan Pethiyagoda and Sebsebe Demissew (2022)
Mary Jane West-Eberhard and Shahina Ghazanfar (2021)
Juliet Brodie and Ben Sheldon (2020)
Vicki Funk and Samuel Turvey (2019)
Kamaljit Bawa, Jeremy Holloway and Sophien Kamoun (2018)
Charlie Jarvis and David Rollinson (2017)
Sandra Knapp and Georgina Mace (2016)
Engik Soepadmo, Claus Nielsen, and Rosmarie Honegger (2015)
Niels Kristensen and Walter Lack (2014)
Kingsley Dixon (2013)
Stephen Blackmore and Peter Holland (2012)
Brian Coppins and Charles Godfray (2011)
Dianne Edwards and Derek Yalden (2010)
Peter Ashton and Michael Akam (2009)
Jeffrey Duckett and Stephen Donovan (2008)
Phil Cribb and Thomas Cavalier-Smith (2007)
David Mabberley and Richard Fortey (2006)
Paula Rudall and Andrew Smith (2005)
Geoff Boxshall and John Dransfield (2004)
Pieter Baas and Bryan Clarke (2003)
Sherwin Carlquist and William Kennedy (2002)
Christopher Humphries and Gareth Nelson (2001)
Bernard Verdcourt and Michael Claridge (2000)
Philip Barry Tomlinson and Quentin Bone (1999)
Mark Chase and Colin Patterson (1998)
Rosemary Helen Lowe-McConnell and Enrico Coen (1997)
Keith Vickerman John Heslop-Harrison (1996)
Stuart Max Walters and John Maynard Smith (1995)
F.E. Round and Alec Jeffreys (1994)
Barbara Pickersgill and L.B. Brower (1993)
R.E. Schultes and A.J. Gould (1992)
W.G. Chaloner and R.M. May (1991)
G.T. Prance and F.G. Rees (1990)
W.D. Hamilton and Sir David Smith (1989)
J.L. Harley and Sir Richard Southwood (1988)
G. Fryer and V.H. Heywood (1987)
A. Cronquist and P.C.C. Garnham (1986)
A.J. Cain and J.B. Harborne (1985)
J.G. Hawkins and J.S. Kennedy (1984)
C.T. Ingold and M.J.D. White (1983)
P.H. Davies and P.H. Greenwood (1982)
B.L. Burtt and Sir Cyril A. Clarke (1981)
G.C. Ainsworth and R.A. Crowson (1980)
R. McN. Alexander and P.W. Richards (1979)
K.O. Hedburg and T.S. Westoll (1978)
E. Mayr and T.G. Tutin (1977)
W.T. Stearn (1976)
A.S. Watt and P.M. Sheppard (1975)
E.H. Hennig and J. Braun-Blanquet (1974)
G.L. Stebbins and J.Z. Young (1973)
A.R. Clapham and A.S. Romer (1972)
C.R. Metcalfe and J.E. Smith (1971)
E.J. Corner and E.I. White (1970)
Irene Manton and Ethelwyn Trewavas (1969)
A. Graham and T.M. Harris (1968)
C.S. Elton and C. Hubbard (1967)
G.S. Carter and Sir Harry Godwin (1966)
J. Hutchinson and J. Ramsbottom (1965)
R.E. Holttum and C.F.A. Pantin (1964)
Sidney M. Manton and W.H. Pearsall (1963)
N.L. Bor and G. Gaylord Simpson (1962)
E.W. Mason and F.S. Russell (1961)
Libbie H. Hyman and H. Hamshaw Thomas (1960)
H.M. Fox and C. Skottsberg (1959)
Sir Gavin de Beer and W.B. Turrill (1958)
E.A. Stensio (1957)
W.H. Lang (1956)
Sir John Graham Kerr (1955)
F.E. Fritsch (1954)
P.A. Buxton (1953)
I.H. Burkill (1952)
T. Mortensen (1951)
H.N. Ridley (1950)
D.M.S. Watson (1949)
Agnes Arber (1948)
M. Caullery (1947)
W.T. Calman and F.E. Weiss (1946)
Award suspended (1942-45)
Sir Arthur George Tansley (1941)
Sir Arthur Smith Woodward (1940)
E.D. Merrill (1939)
Sir D'Arcy Wentworth Thompson (1938)
F.F. Blackman (1937)
J.S. Gardiner (1936)
Sir David Prain (1935)
Sir Sidney Frederick Harmer (1934)
R. Chodat (1933)
E.S. Goodrich (1932)
K.R. von Goebel (1931)
J.P. Hill (1930)
H. de Vries (1929)
E.B. Wilson (1928)
O. Stapf (1927)
E.J. Allen (1926)
F.W. Oliver (1925)
W.C. McIntosh (1924)
T.F. Cheeseman (1923)
Sir Edward Bagnall Pounton (1922)
D.H. Scott (1921)
Sir Edwin Ray Lankester (1920)
Sir Isaac Bayley Balfour (1919)
F. DuC. Godman (1918)
H.B. Guppy (1917)
F.E. Beddard (1916)
J.H. Maiden (1915)
O. Butschli (1914)
H.G.A. Engler (1913)
R.C.L. Perkins (1912)
G. zu S-L. Hermann (1911)
G.O. Sars (1910)
F.O. Bower (1909)
T.R.R. Stebbing (1908)
M. Treub (1907)
A.M. Norman (1906)
E. Strasburger (1905)
A.C.L.G. Gunther (1904)
M.C. Cooke (1903)
R.A von Kolliker (1902)
Sir George King (1901)
A. Newton (1900)
J.G. Baker (1899)
G.C. Wallich (1898)
J.G. Agardh (1897)
G.J. Allman (1896)
F.J. Cohn (1895)
E.H.P.A. Haeckel (1894)
D. Oliver (1893)
A.R. Wallace (1892)
J.B.E. Bornet (1891)
T.H. Huxley (1890)
A.L.P.P. de Candolle (1889)
Sir Joseph D. Hooker and Sir Richard Owen (1888)
Rohan Pethiyagoda, Linnean Medal (Zoology) 2022
Mr Rohan Pethiyagoda has been an employee of and advisor to the government of Sri Lanka, serving as Chairman of the Water Board in the 1980s. His 1991 monumental Freshwater Fishes of Sri Lanka was hailed as a landmark achievement, treating the island's diverse ichthyofauna more comprehensively and authoritatively than ever before. Over the next decade both Rohan and his Wildlife Heritage Trust (WHT), set up with the profits from the book, became synonymous with the exploration, discovery and documentation of Sri Lanka's biodiversity and the wider application of this to enhance biogeography of the broader region. His program of original and collaborative research (both Sri Lankan and overseas) has resulted in publications on many zoological groups in addition to fishes. His impact on biodiversity research in Sri Lanka and beyond through his output and catalytic influence cannot be overestimated.

Professor Sebsebe Demissew, Linnean Medal (Botany) 2022

Sebsebe Demissew is one of the most powerful voices for biodiversity conservation today. He has worked over three decades on the documentation of the plant resources (both wild and cultivated) of Ethiopia and Eritrea including the traditional knowledge on the use of plants by indigenous communities. His science has gone beyond taxonomy to encompass study of the vegetation of Ethiopia, including analyses of the effects of climate change on this unique flora. The production of field guides to charismatic plants of Ethiopia, such as orchids and aloes, has had a significant effect on increasing local interest in Ethiopia's flora. His work has at its heart the improvement of biodiversity knowledge for the empowerment of the people of the global South. His leadership on the Multidisciplinary Expert Panel of IPBES (International Panel on Biodiversity and Ecosystem Services) brought a strong voice for the science of natural history to global policy-making.
Dr Mary Jane West-Eberhard, Smithsonian Tropical Research Institute, Linnean Medal (Zoology) 2021
Dr Mary Jane West-Eberhard has used her studies of natural history to alter, amend, and expand our understanding of the natural world. She is an entomologist studying the complex societies, behaviours and phenotypes of social wasps. Dr. West-Eberhard performed the first field test of kin selection, demonstrating that such selection was not based on high degrees of relatedness, thus reconceiving the evolution of sociality. She also expanded the concept of sexual selection to include the contexts of social competition. She thus placed the selection for mates into the arena of competition for resources and variations in communication.
Her work has led to advances in developmental plasticity and evolution; her work with alternative phenotypes has shown that plasticity can lead to novel traits and then to genetic divergence and speciation. When her book Developmental Plasticity and Evolution was published in 2003, George Williams called it "a brilliant new synthesis" that "will be a classic that people will be quoting decades from now."
Dr West-Eberhard is a member of the National Academy of Sciences (USA) and served on its Human Rights Committee as Vice-Chair; she is a passionate advocate for young scientists and has been influential in promoting the careers of Latin American scholars. She has been the recipient of many awards and honours and has been selected as a "Leader in Animal Behaviour".
Her unification of developmental plasticity and genetics is a huge advance in our understanding of evolution. Her decades long work with tropical social wasps focusing on careful field observation is testimony to what a careful observer of natural history can contribute to evolutionary biology.
---
Dr Shahina Ghazanfar, Royal Botanic Gardens Kew, Linnean Medal (Botany) 2021
Shahina Ghazanfar is a botanist who has pursued research into plant taxonomy and conservation on four continents. As an associate professor at Sultan Qaboos University, Oman, she founded the country's first institutional herbarium in 1990. This involved extensive fieldwork in Oman, leading to the publication of the four-volume Flora of Oman (2003-2018). Her work extends to practical applications, with the Handbook of Arabian Medicinal Plants (1994: CRC Press). Her work at the University of the South Pacific, Suva, Fiji, resulted in the jointly (with G. Keppel) published Trees of Fiji, as well as distance teaching to five Pacific nations. In 2001 she joined the staff of the Royal Botanic Gardens, Kew as co-editor for the Flora of Tropical East Africa; in this role she published taxonomic treatments of more than 35 families and contributed to many other tropical floristic projects.

As Head of the Temperate Regional Team (covering Australasia and Eurasia) at Kew, she developed collaborative projects through Kew's Innovations Unit establishing herbaria, seed banks, restoration projects, use of native plants for landscaping, and building capacity in Arabia. She was instrumental in reactivating the Flora of Iraq project in 2011, actively involving Iraqi botanists. As lead co-editor she published two new volumes of the Flora (2013-2019).
Her research contribution in conservation science spans a wide range of subjects and locations; much has been carried out through the medium of environmental consultancies, with high impacts in certain areas, particularly the Arabian Peninsula. As an active member of the IUCN Arabian Plants Specialist Group she has contributed towards IUCN Red Lists for Arabia. She is an accomplished natural historian and field naturalist with a distinguished publication record.
---
Professor Ben Sheldon, University of Oxford, Linnean Medal (Zoology) 2020
Professor Sheldon's ground-breaking studies in wild birds, which combine innovative methodologies, including field experiments, behavioural analyses and quantitative genetics, have led to important insights into ecology, evolution and behaviour. His work has encompassed the role of phenotypic plasticity in adaptation, the ecology of social behaviour and the nature of information flow in wild populations.
Professor Sheldon began by studying sexual selection, specifically sperm competition in wild birds, using molecular genetic markers to measure critical variables. He used these to test the adaptive nature of reproductive decisions, leading to major advances in our understanding of parental investment, sex ratio, and mate choice. He then used approaches from evolutionary biology and quantitative genetics to advance our understanding of life histories and how organisms respond to changing environments, showing how long-term datasets of individuals enable separation of changes due to evolution and changes due to within-individual flexibility (phenotypic plasticity).
This work has become a classic example of exploring how ecosystems are influenced by environmental change, and has underlined the importance of long term studies in this field. Most recently, Professor Sheldon has advanced our understanding of social behaviour in wild populations using automated recording at very large scale in the field to quantify the structure and dynamics of social networks in wild bird populations. He has shown that social links among individuals drive variation in behaviour at the individual level, that they are crucial for understanding information transmission and that the structure of social networks could modify, and even change the direction of, natural selection on behaviour. He has also shown that biased social learning mechanisms can lead to the rapid dissemination of novel behaviours through social learning, resulting in stable behavioural change at the population level. In addition to his academic leadership, Ben Sheldon has made many wider contributions to the scientific community, including extensive editorial work and service for many funding panels. He was instrumental, as a PI, in obtaining £6 million funding for long-term population studies of birds in Wytham Woods.
---
Professor Juliet Brodie, Natural History Museum, London, Linnean Medal (Botany) 2020
Professor Juliet Brodie is a preeminent international expert in seaweeds. Her eclectic research interests, spanning over 30 years, range from genomic approaches to macroalgae and microbiomes to taxonomy and phylogenetics. She is the leading world authority on the taxonomy and phylogenetics of the Bangiales, an ecologically and economically important red algal group but notoriously difficult to identify. She was the first to apply molecular techniques to distinguish species and to recognise distinct phylogenetic groupings.
This pioneering work was the precursor to a complete revision of the order, which has subsequently revolutionized the study of this group. Further, she has redefined species concepts in the Corallinales, and has been a trailblazer in biodiversity discovery in many parts of the world, recently on the Falklands' seaweed flora where she has revealed many undescribed species at a time of unprecedented global biodiversity loss. The more than 135 publications, written by her with >260 co-authors are testimony to her exceptional ability at bringing collaborative research into the public domain whilst her 75 talks underline the high international regard she enjoys as a communicator of exciting new information on algae.
Professor Brodie has received many prestigious awards and has held several Presidencies, including being the first female President of the Systematics Association since inception in 1925. Professor Brodie has also contributed to important government panels and is Editor-in-Chief of the European Journal of Phycology. She has also led the way in outreach, making numerous radio broadcasts, creating the Big Seaweed Search, and producing the Provisional Red Data List UK seaweeds (a first for seaweeds). She also developed the Seaweed Wonder Bay at the NHM.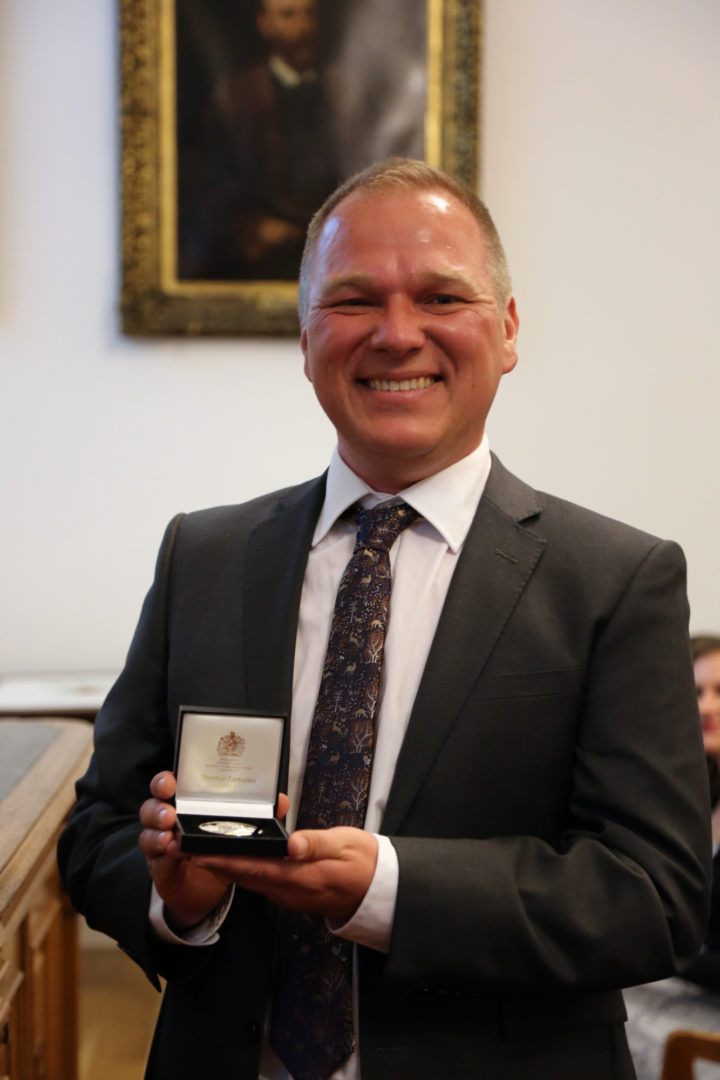 ---