£1,000 and a piece of fine art for the best doctoral thesis in botany (algae, fungi or plants).
Awarded for the best thesis in botany examined for a doctorate of philosophy. It is open to candidates whose research has been carried out whilst registered at any UK institution. Theses on the full range of plant sciences are eligible. Nominations are received from the Head of Department, or the supervisor of the candidate.
Nominations are now closed. Sign up to our newsletter, Linnean News, for updates on events, grants, awards and news from the Linnean Society of London.
---
Open to PhD candidates whose doctorate has been awarded during the previous 18 months (from closing date of nomination).
PhD candidate can be any nationality, but research to have been carried out whilst registered at a UK institution
The thesis must be of outstanding quality and be on any aspect of botany (e.g. embracing algae, fungi or plants)
Nominations to be made by the Head of Department or supervisor of the candidate
Up to two candidates may be nominated per department
Nominee cannot, at the time of nomination, be a member of Council
Nominee does not need to be a Fellow of the Society
We do not accept self-nominations

Evaluation criteria will include (scores in parentheses):
Writing and organisation (0-10)
Presentation (format, illustrations) (0-10)
Intrinsic interest of question (0-20)
Contextualization of problem (0-10)
Quantity of data collected (0-10)
Quality of data collected (0-10)
Data analysis (0-20)
Discussion depth and breadth (0-10)
Published papers (0-10)
Dr Brogan Harris, University of Bristol, Irene Manton Prize 2023
Thesis titled 'A phylogenetic investigation into the evolutionary history of stomata and land plants'
Brogan Harris' research on the hotly debated topic of the evolution of stomata concluded that bryophytes form a monophyletic group, rather than a paraphyletic grade, resolving a significant controversy. His research also suggests that the first embryophytes possessed stomata that were more sophisticated than previously thought. Harris's research has changed the way we think about early land plant evolution.
---
Dr Bruno Pok Man Ngou, University of East Anglia/The Sainsbury Laboratory, Irene Manton Prize 2022
For thesis titled 'Roles and mechanisms of effector-triggered immunity in plant disease resistance'

Bruno Ngou's doctoral thesis examined how plants and their diverse pathogens interact in an evolutionary arms race to avoid and cause disease. Two distinct immune-defence mechanisms allow plants to recognise and activate defence against these bacterial, fungal and oomycete pathogens; plants recognise the pathogens, while pathogens detect this and secrete effector molecules, which plants in turn detect, but the interaction between these had not been studied. He found that these two plant immune systems function synergistically to activate robust immunity that thwarts pathogens. His research showed that the effector triggered response was dependent on the pattern-triggered response and paved the way for developing disease-resistant crops by introducing into plants multiple immune receptors ("gene-stacking") to enhance both genetic and physiological mechanisms that promote strength and durability of pathogen resistance.
---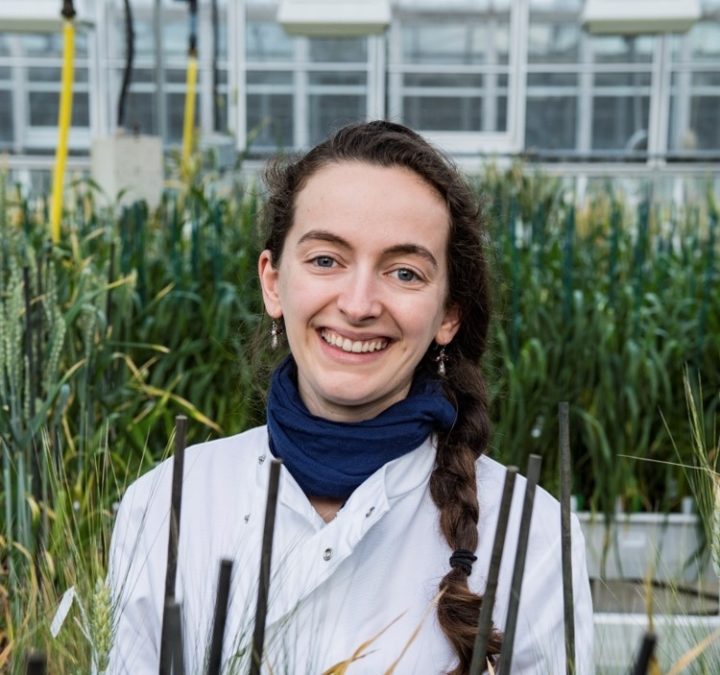 Dr Sophie Harrington, University of East Anglia, Irene Manton Prize 2021
For thesis titled 'Understanding the molecular and genetic mechanisms regulating senescence in wheat'

Understanding senescence (aging) in crops is essential for improving food security. This work focused on understanding the regulation of monocarpic senescence in wheat and applied a neatly nested set of approaches to tackle this question. Using novel TILLING populations, she mapped new mutants and identified some that were caused by specific missense mutations in the known senescence regulator NAM-A1, a NAC transcription factor (TF). This led to identification of specific residues which were essential for protein function and which are likely to have similar roles in NAC TFs across all plants.
Sophie developed a toolkit of plasmids (in collaboration with colleagues at JIC, ENSA, and Edinburgh) which can be used to generate heat-shock-inducible transgenic constructs for cereals to investigate the roles of other TFs in the regulation of senescence. She identified the NAC3-B1 transcription factor and using TILLING mutants, demonstrated that mutations in NAC3homoeologs led to delayed senescence. This analysis was integrated with transcriptional data and gene regulatory networks to predict shared regulatory targets of these two transcription factors. Her work, combined with analysis of gene expression data, showed that NAM-1 and NAC3 work together to regulate the onset of senescence in wheat. Several chapters are already published in high impact journals, and the thesis has generated new insights into plant aging.
---
Dr James Clark, University of Bristol, Irene Manton Prize 2020
For thesis titled 'Whole genome duplication and the evolution of the land plant body plan'

Whole genome duplication (polyploidy, WGD) is the predominant source of plant genome diversity but its consequences over macroevolutionary timescales are poorly understood. James Clark's thesis improves our understanding of WGD by establishing methods for characterising WGD events and their outcomes over geological time. It presents novel methods to identify WGD events using phylogenomics, pinpointing which species have undergone a specific WGD event, and novel applications of molecular clock methods to estimate the precise timing of each given event. Combined, these methods have shown a means of integrating extant and fossil data into comparative genomics and will inform future research into WGD, not only within plants, allowing the consideration of each WGD event in relation to extant and extinct diversity as well as in relation to major events in Earth history, including mass extinctions and other climate catastrophes.
The thesis also establishes a method for capturing phenotypic disparity across broad taxonomic clades, such that hypotheses linking WGD and phenotypic complexity can be tested within a comparative framework, something which has previously never been attempted. The power of all of these methodological advances is demonstrated through analysis of key events in land plant evolution, including the origin of seed plants, angiosperms, eudicots, grasses and horsetails. Several chapters are already published in high impact journals, and it is anticipated that this research will contribute to debate over several pressing issues including the role of polyploidy in mass extinctions and crop evolution, as well as Darwin's 'abominable mystery', the evolution of the flower.

---