25th May 2017: Medal Winners 2017
2017 Linnean Society Medal Winners Announced
Published on 26th May 2017
At our Anniversary Meeting on Wednesday 24th May 2017, Professor Paul Brakefield—President of the Linnean Society of London— presented our Medals and Prizes to celebrate the achievements of academics across the natural sciences. Below is a list of the medal and award winners.
Charlie Jarvis received the Linnean Medal (Botany) to a biologist for service to science.

David Rollinson received the Linnean Medal (Zoology) to a biologist for service to science.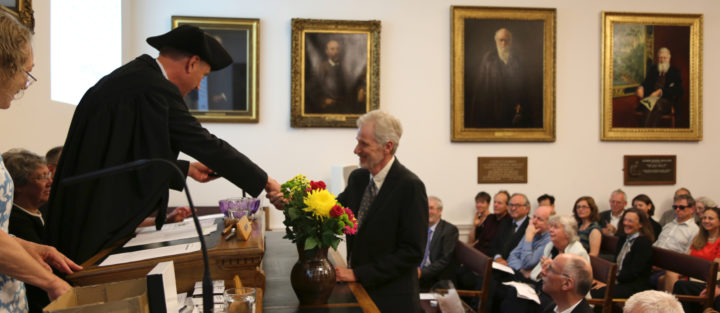 Claire Spottiswoode received the Bicentenary Medal to a biologist under the age of 40 years in recognition of excellent work.
Johannes Girstmair received the Trail-Crisp Medal in recognition of an outstanding contribution to biological microscopy that has been published in the UK.
Steven Dodsworth received the Irene Manton Prize to a PhD student for the best botany thesis in an academic year.
John Walters received the H H Bloomer Award awarded to an amateur naturalist for an important contribution to biological knowledge.
Lynn Dicks received the John Spedan Lewis Medal awarded to an individual who is making a significant and innovative contribution to conservation.
Karin Douthit and David Williamson received the Jill Smythies Award to a botanical artist for outstanding illustrations.