James Edward Smith (2 December 1759–17 March 1828) was the founder of the Linnean Society and one of the one of the most pre-eminent British botanists of his age. Following the death of Carl Linnaeus the younger (1741–1783), Smith purchased the collections of Carl Linnaeus Snr. for 1,000 guineas. In 1788, Smith founded the Linnean Society of London with Samuel Goodenough (1743–1827) and Thomas Marsham (1748–1819), and became its first President, a position he held for life.
The Lord Treasurer of Botany, a biography of James Edward Smith, was published by the Society in 2016.
Specimens
Herbarium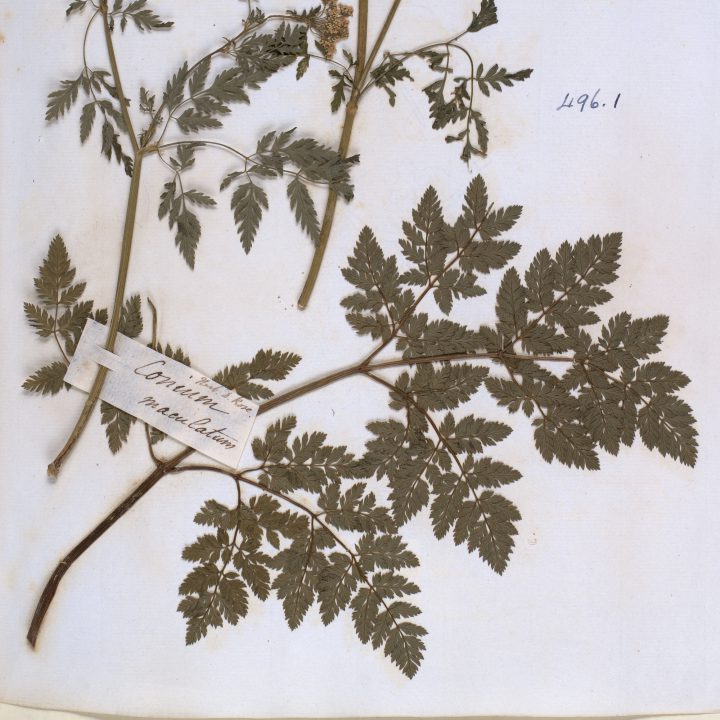 Smith's collection of 27,185 dried botanical specimens is a rare example of a personal herbarium that has been kept in its original state and has not been remounted or relabelled. The herbarium contains specimens from 85 countries and 135 territories, and the earliest specimen dates from 1708. Many of the specimens were sent to Smith as gifts or exchanges, including those received from the world renowned physicians and botanists he met on his 1786–1787 tour of Europe.
There is also a supplementary lichen collection.
Carpological Collection
Smith's carpological, or economic botany, collection contains more than 900 objects, including seeds, fruits, wood, fibres, fungi, lichen, and resins. There are also several processed items such as textiles, whale skin, and the wing of a flying fish. The collection dates from 1775 to 1827. It was conserved in 2018/19 thanks to an Arts Council PRISM grant. The collection is listed, but not yet fully catalogued. Please contact Collections staff for more information.
Correspondence
Smith's correspondence contains over 3,000 letters from 400 correspondents. The collection largely comprises letters received by Smith, though in a few instances his outgoing letters have been recovered and a complete exchange is present.
The correspondence contains detailed discussion of plants, specimens, habitats, publications, and other scientists, as well as first-hand accounts of the political figures, medicine, social unrest, contemporary culture, and wars of the period. The collection also includes engravings, drawings, lists of desiderata, and biological specimens.
Books
Smith was a prolific author who helped introduce and popularise botany with new audiences. The personal reference library of Smith contains over 2,000 books, and include some of the most important botanical works of the period. Many of the books were sent to Smith as gifts or exchanges with fellow naturalists. Some are annotated by Smith.
It also includes copies of Smith's own works. Smith's books are integrated in the Linnean Society Library and available to search within the main Online Library Catalogue.
Archives and Manuscripts
The Society also holds archives relating to Smith's life. It includes a collection of diplomas Smith received from societies and institutions from around the world, manuscript copies of several of Smith's works, drafts of letters and papers, page proofs, notebooks, catalogues of plants, various scientific pamphlets and lists, various general papers and lists, and printed material.