Presenting the Naturalists of the Future!
After taking part in our Art Fund-supported after school club, London students presented their scientific findings to an audience at the Linnean Society of London
Published on 11th April 2023
Local students have been taking part in a six-week after-school nature programme, truly immersing themselves in the great outdoors, then finally presenting their observations to an appreciative audience at The Linnean Society of London.

This programme, part of The Wild Escape project and carried out in partnership with Grow2Know and St Clement and St James Primary School, provided children aged 7–11 with an opportunity to discover the diversity of nature and gain valuable insight into the natural world around them.
Naturalists of the future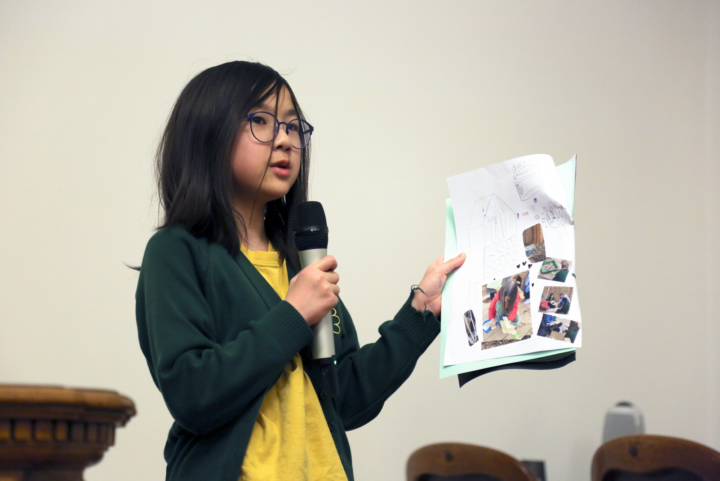 Throughout the programme, students encountered a plethora of topics, including 'what makes a plant a plant', the different types of insects to be found in their backyard and how climate change can ultimately impact nature. Each week the students were encouraged to write down their observations in a personal nature journal, allowing them to reflect on their experiences and record their findings.

After six weeks of diligent discovery, the students then had the opportunity to present their journals in our historic meeting room, in front of the portraits of great thinkers like Charles Darwin and Alfred Russel Wallace. It gave them the chance to share all of the knowledge gained throughout the programme and proudly display all of their hard work.
Fantastic support
This was made possible through the generous support of the Wild Escape. The Wild Escape is made possible by lead support from Arts Council England's National Lottery Project Grants, with additional support from Art Fund.
We also had support from numerous donors, including individual donations from the Society's membership. Thanks to their contributions, students were able to take part in a programme that not only taught them about nature, but also helped build essential skills such as critical thinking, observation and creative writing.
We aim to build on its success over the coming years, so that we can continue to inspire the next generation of nature enthusiasts.
If you would like to support our future education activities please visit our Donations page, or subscribe to our newsletter, the Linnean Learning Update.