Adventurous Fellows: Part Two
Being 'adventurous' has often meant exploring terrain closer to home. Curator of Artefacts Glenn Benson takes a look at the exploration of not just science itself, but also the rather unassuming town of Braintree, in Essex.
Published on 29th May 2020
The Only Way Was Essex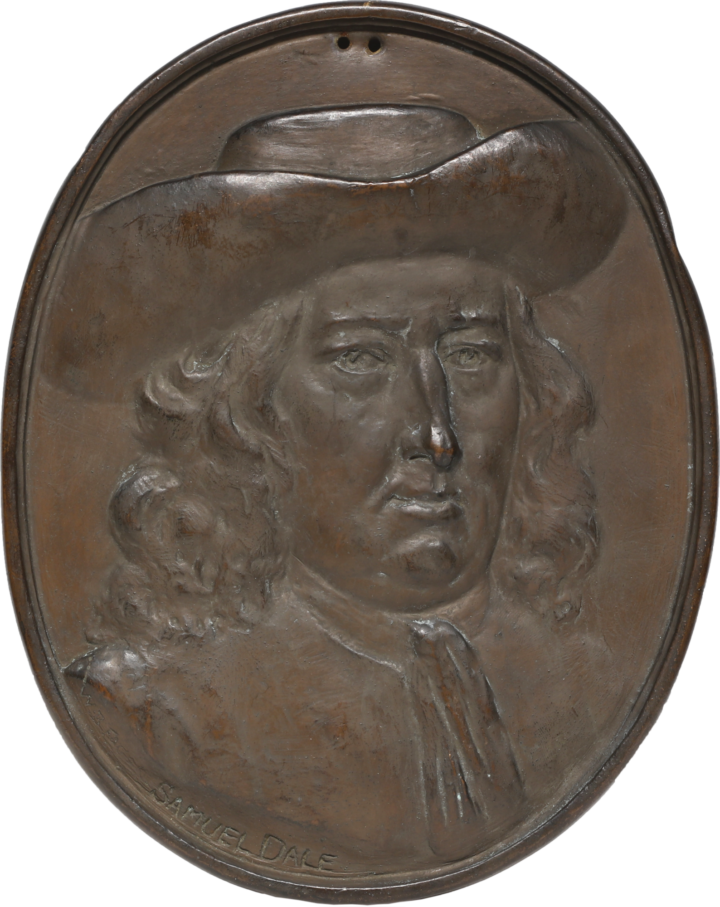 If there was ever a more appropriately named place than Braintree (about 74 km outside of London in the UK), we'd like to know about it. For at one time or another it was home to at least five famous naturalists, botanists and apothecaries: Samuel Collins (1619–70), John Ray (1627–1705), Benjamin Allen (1663–1738), Joseph Andrews (1710–62), and the man featured in this portrait medallion, Samuel Dale (c. 1659–1738/9). All five were either born, or lived in or near, the prosperous Essex textile town. (In 1794, the famous Courtauld family of textile industrialists set up their mills in nearby Pebmarsh, with a silk mill in Braintree from 1810. While there may be no textile manufacturing in the town today, it has become a centre for the study of textiles through the Warner Textile Archive: https://www.warnertextilearchive.co.uk/.)
Within the Society's artefact collections lies a metal portrait medallion of Samuel Dale, which peaked my interest. I was curious as to why this apothecary, botanist, naturalist, geologist, and prolific author has often just been described as 'friend and executor of John Ray', which struck me as rather dismissive considering Dale's many achievements. Ray is of course rightfully famed for his pioneering work in taxonomy, particularly in botany where he established species as the 'ultimate unit of taxonomy'. He published his work Methodus plantarum nova in 1683, which in turn led to the publication of what is perhaps considered his magnum opus, Historia plantarum (1686–1704). Ray's work would go on to influence that of Carl Linnaeus (1707–78).
Dale, a physician in Braintree for more than 50 years, also published his work, including many papers in the Philosophical Transactions of the Royal Society. Dale was Ray's family doctor, and sources agree that they were great friends and collaborators, with Dale enlisted to assist Ray with Historia plantarum. Ray thanked him in the Preface:
Samuel Dale, doctor and physician, my neighbour and friend at Braintree who checked synonyms, corrected errors, and supplied omissions.
There is much to say about these friends, but I will leave it to the excellent, and very helpful, Essex Field Club (founded in 1880) to expand on this story: http://www.essexfieldclub.org.uk/.
Dale's medallion
Let's concentrate on the portrait. The Society's medallion is a copy of the bronze portrait of Samuel Dale commissioned by the Essex Field Club from the sculptor Willian Bateman Fagan RSBS (1860–1948). It formed part of a large bronze memorial wall tablet to Dale in Braintree parish church, St Michael's. Made by Gawthorp & Sons of Covent Garden London, it was unveiled on 27 April 1912. The tablet cost £72 17s and was funded by subscriptions from 86 scientific societies and individuals, including several Fellows of the Linnean Society. One of those, and a driving force behind the initiative to have the tablet created, was naturalist and native Essex man Robert Miller Christy (1861–1928), and it was he who donated the copy of Dale's portrait medallion to the Society in December 1914. We currently don't know why the copy was made, or whether it is unique. I would love to hear from you if you know more.
The inspiration for Fagan's portrait of Dale comes from this oil painting of him held in the collections of the Worshipful Society of Apothecaries of London. It was painted around 1731 by an unknown artist, when Dale was aged 72, and was presented to the Worshipful Society of Apothecaries in 1816 by the widow and family of Thomas Simons Dale M.D., Samuel's great nephew.
Shown with his hat 'uncocked' (not pinned up at the front to form the fashionable tricorne), Samuel wears no wig. In the background are two large books, assumed to be part of his eight volume work, Pharmacologica, first published in 1693.
The 1737 edition of Pharmacologica has a frontispiece that features a portrait engraving of Dale by George Vertue (1684–1756) obviously influenced by this earlier painting, showing Dale without his hat but with his books.
A later engraving by Charles Rivers (b. 1774) dating from 1812 may be a copy of Vertue's, though this time excluding both his hat and volumes.
Incidentally, the sculptor of the Society's portrait medallion, William Bateman Fagan, is perhaps best known for the architectural sculpture and huge (over 6m tall) bronze doors on Imperial Chemical House in London. Built in 1927–29, it is now known as Nobel House and is used by the UK Government as offices.
A home for naturalists
Braintree (and its environs) was the place to be in the 17th and 18th centuries for the medicinal study of plants. The number of important naturalists either born in, or drawn to, the area is fascinating. Mark Catesby (1683–1749), naturalist and author of the stunning work The natural history of Carolina, Florida and the Bahama islands (1729–47)—the first published account of the flora and fauna of North America—also hails from near Braintree. In fact, upon his return from his first trip to North America and the Bahamas, it was to Dale that he presented a collection of plants. And it was Dale who wrote to William Sherard (1659–1728), who established the Chair of Botany at Oxford, in support of Catesby's second collecting trip to North America. Here we have come full circle. Today, Braintree is rather overshadowed by its more infamous neighbour Brentwood, where the once-popular TV series 'The Only Way is Essex' is set.
Acknowledgments
Thanks go to the dedicated Essex Field Club for their assistance, the Revd. Stephen Bailey and volunteers, St Michael's Braintree, David Pescod FLS and Janet Payne Archive Officer Apothecaries' Hall.
Sources
The Ray, Dale & Allen Commemoration Fund, 1912: First & Final Report: Miller Christy, FLS reprinted from "The Essex Naturalist", vo. Xviii, 1913.
Houston, S., Ball. T, & Houston, M. 2003. Eighteenth-Century Naturalists of Hudson Bay. McGill-Queen's University Press.
Morris, A.D. 1974. Samuel Dale Physician & Geologist. Proceedings of the Royal Society of Medicine 67(2): 120–124.