Hidden Treasures: In Search of John Tyley
Published on 31st October 2018
Earlier in the month we did a blog post about John Edmonstone, the former slave who taught Charles Darwin taxidermy. If it wasn't for Darwin talking about this man in his autobiography and his letters to his sister, would his monumental influence have gone unrecognised? It makes you wonder about the many contributions black people have made to the science of natural history that are as of yet unknown. In many cases we find out about these contributions through little things like passing comments in letters, or, as in the case of this blog post, a simple signature on a botanical painting.
---
Within our collections we hold some beautiful watercolour illustrations from Alexander Anderson's Hortus Sti. Vincentii Tabulae. In need of repair, these items can be adopted through our AdoptLinn campaign, which will enable us to fund the conservation process. Alexander Anderson (1748–1811) was a Scottish surgeon and botanist who was appointed superintendent of the Botanic Garden on the Caribbean island of St Vincent from 1785 until his death. The Hortus Sti. Vincentii Tabulae shows 148 beautiful watercolour depictions of plants from the Botanic Garden (one of the oldest in the Western hemisphere), as well as a plan of the garden itself.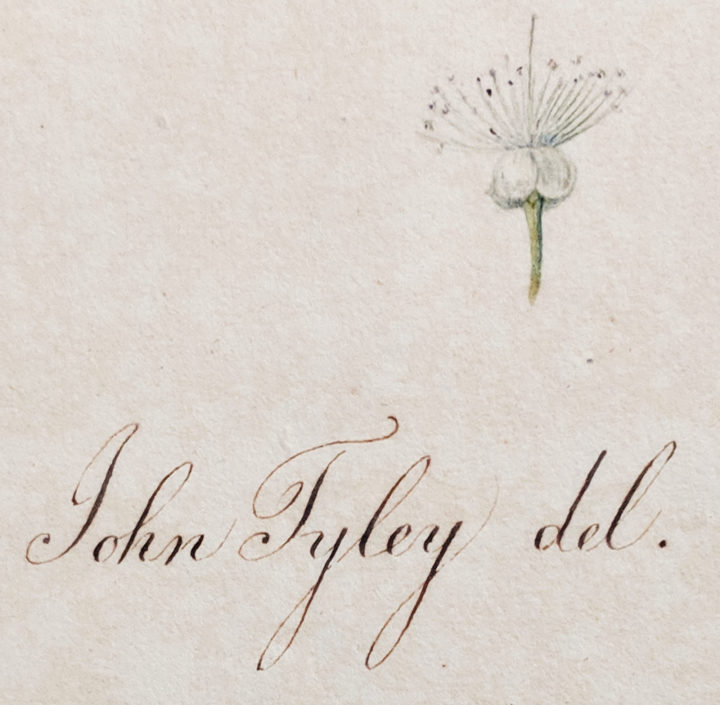 Around ten of the stunning drawings are signed by a 'John Tyley'. Who is John Tyley, what is his background and what became of his life? We do know that John Tyley was an associate/protégé of Alexander Anderson1 and in Alexander Anderson's Geography and History of St. Vincent, West Indies (1983) it states that Alexander Anderson
"praised the work of his artist, a young mulatto from Antigua, and sought to find a position with opportunity for him in England".2
---
Is this young mulatto from Antigua the very same John Tyley? According to Alexander Anderson's nephew, also called Alexander, it is. In his diary he writes about visiting his uncle in St Vincent and the drawings of a young mulatto, [John] Tyley, who was living with his uncle, while also working as his draftsman.3
Currently this is all we know about John Tyley. But is this where our story ends? I would like to keep searching to find out more about his life. I have contacted the St Vincent Botanical Garden to see if they have any more information about this gifted botanical draughtsman, but I was also wondering if you could help. Do you know anything more about John Tyley? Or are you interested in getting involved in the research process?
There are many unsung heroes and hidden treasures within the study of natural history that need to be placed in the spotlight—let's start with John Tyley.
By Leanne Melbourne, Events and Communications Manager
References
1) The St. Vincent Botanic Garden – The Early Years, 1997/1998, Richard A. Howard, Arnoldia, Vol 57, pg. 12-21
2) Alexander Anderson's Geography and History of St. Vincent, West Indies; edited and transcribed by Richard a. & Elizabeth S. Howard
3) Alexander Anderson's Life and Engravings before 1800^ with a Checklist of Publications Drawn from His Diary; Jane R. Pomeroy