18th December 2014: Carl Linnaeus the Younger in London
Published on 18th December 2014
Carl Linnaeus the Younger in London
In April 1781, three years after his father's death, Carl Linnaeus the Youngerset sail from Göteborg to London. Linnaeus the Younger stayed in London until the autumn of 1782 and was a regular visitor to Joseph Banks's house at 32 Soho Square, as were fellow naturalists Daniel Solander (1733-1782), Jonas Dryander (1748-1810), and Pierre Broussonnet (1761-1807). He was by Solander's side, in May 1782 when the latter suffered a cerebral haemorrhage. Solander died a week later.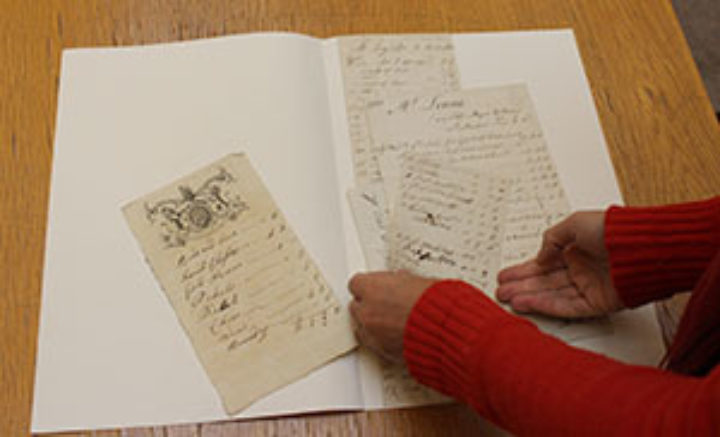 Linnaeus the Younger's manuscripts are currently being catalogued and show that there is much more to his life than has previously been published. Records from his English stay include his passports, prescriptions (possibly for the illness that would kill him a few months later), lists of expenses, fragments of a diary, and many annotations which have never been looked at in detail by historians, but which reveal much of what Linnaeus the Younger thought of England. They include notes on natural history (botany, zoology, and horticulture), of course, made during visits to Kew Gardens, Chelsea, Painshill Park, and to the collections of individuals such as Banks or Henry Smeathman (1742-1786). But they also include comments on English women, on the use of electricity as a cure for several ailments, and on Lady Banks's goldfish.
Particularly fascinating are the bills which Linnaeus the Younger incurred during his stay. His landlord, Mr Carpenter, not only charged him for rent, but for many other services such as providing food, beer and candles, laundering his clothes and cleaning his boots. For such services, Mr Carpenter charged Linnaeus the Younger £8, 13 shillings and 8 pence for the period between February and August 1782. Another bill shows that, possibly following a visit to Kew Garden, Linnaeus the Younger stopped for dinner at the Kings' Arms on Kew Green, where he was charged for bread and beer, lamb chops, cold ham, pickles, cheese, wine and brandy (if anyone can decipher the word below 'Pekels' please contact me at isabelle@linnean.org!).
e Younger left London sometime in the autumn of 1782, arriving in Paris by mid-November. After a short stay, he returned to Uppsala in early 1783. On 1 November 1783, he died in Uppsala of the illness (probably jaundice) that had begun in London.
Historians have long focused on Linnaeus the Younger's illustrious father – and rightly so, given his importance in natural history, taxonomy and nomenclature. The wealth of manuscripts related to Linnaeus the Younger should encourage them to turn their attention to the life of his less-well known (and indeed less well-liked) son.
If you wish to consult documents held by the Library of the Linnean Society, please contact the librarians at library@linnean.org, or visit /Library-and-Archives