Every year we invite young people to create a new portrait that Carl Linnaeus would really like.
This year, 8-13-year-olds are tasked with creating a portrait of their nature hero!
Nature heroes are people who make efforts to better understand, value, and protect the natural world. They can be modern, historic, well-known, or personal (e.g. a cousin who saved a hedgehog last year, or a local litter-picker).

Click the headings below to read through the competition information.
Submissions are now closed. Please keep an eye out for the next competition, which we expect to launch in September 2023
The artist must be between 8 and 13 years old between 1 September 2022 and the 13 November 2022.
The artist can be from anywhere in the world, i.e. not limited to the UK.
The artwork must be in a portrait orientation (i.e. not landscape) and a standard paper dimension, minimum A4 (21x29.7cm).
The artwork must be signed by the artist.
The artwork can include any medium - paints, charcoal, digital art, collages... anything! You could even create a 3D object and enter that as a portrait photo, although we cannot accept video.
The artwork must be the artist's own work. Do not enter other people's work.
A judging panel will review all of the entries once the competition has closed.
The 2022 competition has now closed. We cannot receive any further entries.
One overall winner will be selected, with at least three more finalists.
The winner and finalists will receive physical certificates and prizes, including art and science materials.
All artists who enter artwork will receive a digital certificate sent via email. The Linnean Society will send thanks to all participants after the competition closes.
Examples of Inspiring Nature Heroes
Maria Sybilla Merian
Maria Sybilla Merian loved going out into the natural world to draw insects and plants. Can you draw a picture of her at work?
Maria was born in Germany. As a child she loved nature and being outside. She studied insects and plants, and drew beautiful pictures of them. Later in her life, Maria travelled to Suriname to study native wildlife in the small country in South America. Apart from illustrating the natural world, she also wrote scientific books.
Today, we know that insects have different stages of life. For instance, caterpillars turn into butterflies. In Maria's time, people thought these were different insect species. Maria was the first person to work out that these were actually the same insect in different stages of its life.
Alfred Russel Wallace
The Linnean Society has a vibrant portrait of Alfred Russel-Wallace. Can you create your own?
Born in Wales, Alfred was a keen explorer. He studied wildlife and different ways of living around the globe. He worked out how species develop. This included ideas like warning colourations used by animals like bees and wasps. He also wrote a book exploring whether there is life on other planets.
But Alfred is best known for developing the theory of evolution. He co-wrote a paper with well-known biologist Charles Darwin that introduced the idea to the world. It was presented at the Linnean Society in 1858 and has shaped the way we understand the natural world today.
Beatrix Potter
Beatrix Potter is best known for writing stories. She was also a gifted scientist and conservationist. Can you draw her at work or surrounded by her animal creations?

She was born in London but on holidays in Scotland and the Lake District she developed a love of nature. As an adult she moved to the Lake District, where she used the money she made from her popular books to buy farms and land. Her aim was to preserve the country landscape. Much of the land she bought is now the Lake District National Park!
Beatrix also studied funghi using a microscope and making detailed observations of them. She drew over 350 images of funghi.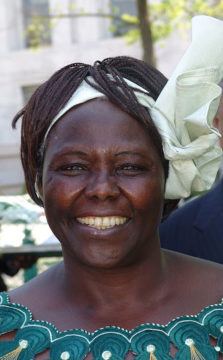 Wangari Maathai
Wangari Maathai led a remarkable life protecting the natural world. Can you draw her protesting, planting trees, or at work as a politician?
Wangari began her career as a scientist before leading a campaign in her home country of Kenya. The group encouraged women to plant trees - in total they planted 30 million trees.
She also led protests to preserve the natural world. Despite attacks from the police and government, she was determined. Later in life she became a member of the Kenyan Parliament.
Wangari was the first woman in Kenya to become a Professor. She was also the first African woman to win the Nobel Peace Prize.
Image: Kingkongphoto & www.celebrity-photos.com under cc-by-sa-2.0
David Attenborough
David Attenborough has been making TV programmes about nature for over 80 years. Can you draw a moment from his programmes that has inspired you?
You may well know him from his programmes which bring wildlife from all over the world into your home. He started off on a programme called Zoo Quest, which featured animals from London Zoo. He then travelled around the world to show species in their natural environment.
David has also become known for his activism. His programmes show how humans are changing the planet. He also speaks out about the damage humans are doing, and how they could repair it.
Image: Department of Foreign Affairs and Trade website – www.dfat.gov.au under cc-by-3.0-au

City Girl in Nature
City Girl in Nature explores ways we can connect with natural spaces, often bringing friends along to share stories. Can you draw a picture of friends going on an expedition?
City Girl in Nature's real name is Kwesia. She grew up in Deptford in South London. She experienced a great deal of struggle in her early life and became homeless. Then she got a chance to be part of an expedition to the Amazon rainforest.
Kwesia says the experience changed her life. She found a love of nature and wanted others from her community that didn't know much about the natural world to try to have a similar experience to herself.
Back in the UK, Kwesia created City Girl in Nature. She gives tips and tricks on how anyone can explore the nature around them.
Flock Together
Born during the Covid-19 pandemic and in the middle of Black Lives Matter protests, Flock Together, was started by Ollie Olanipekun and Nadeem Perera in London.
With a shared love of birding, Ollie and Nadeem recognised that natural spaces are essential for our well-being. Flock Together's core objectives are perfectly matched to our own which is to understand, value and protect nature.
This community organisation is focussed on building community, challenging perceptions, showing the benefits of nature, championing ecological protection, offering mental health support, and providing creative mentorship for the next generation. Through birdwatching walks that are open and local community groups, they are truly on their way.

Photo credit: Flock Together
---
Terms and Conditions
By entering, you give the Linnean Society permission to use your artwork in future media products, as well as share your artwork with all audiences, both online and in person. The Society will give appropriate credit to the entrant in all uses of the image.
The first name, age at submission and town/city will remain associated with the artworks in perpetuity (forever), but all other data will be removed related to entrants and submissions after the 1st January 2023, unless otherwise approved.
Entries will not be accepted from employees of Linnean Society and their immediate families.
The judges' decision is final and no correspondence will be entered into regarding the competition outcome.
Entry into the competition will be deemed to constitute acceptance of these terms and conditions.
More links